三重熱交換
Triple Heat-Exchanging

上海共和真空技術有限公司
日本共和真空技術(株)于1979年開發的"三重熱交換系統"專利技術,從非常單純的構思出發,也就是將載冷劑冷卻器的熱交換器的外表面作為冷凝器來使用。
The patent technology of "triple heat-exchanging system" invented in 1979 by Japanese Kyowa, is developed from a very simple idea that is to adopt the refrigerant chiller's external surface to be the ice condenser.
熱交換器設置在冷凝器體內部,即在冷凝板內部裝有冷媒冷卻管,載冷劑在裡面流動,使水蒸汽在冷凝板的外面凝結。製冷劑/載冷劑,製冷劑/水蒸汽,載冷劑/水蒸汽的三個媒體有效地進行熱交換,故而稱之為"三重熱交換系統"。

預凍時以冷卻板層的熱交換器發揮作用,在預凍終了時,已經冷卻到比板層溫度更低。因此沒有必要將製冷機切換到冷凝器,也就是說可以直接抽真空。而乾燥時板層系統與冷凝器系統分離,板層系統由加熱器進入乾燥階段。

由於製冷機常僅冷卻載冷劑,在低負荷時從板層旁通一部分載冷劑到冷凝器,可以控制冷凝器在一定的溫度。冷凝器溫度可以控制的系統,在當今必須作過程驗證的時代,對於製品的均一性,再現性具有非常的優異性能。

冷凝板用SuS316L製造且縱向扇形狀配置。為了使水蒸氣進入冷凝板之間,由於上部結冰較多,按照自然法則將上部的間隔擴大。構造上與冷卻管相比清洗容易。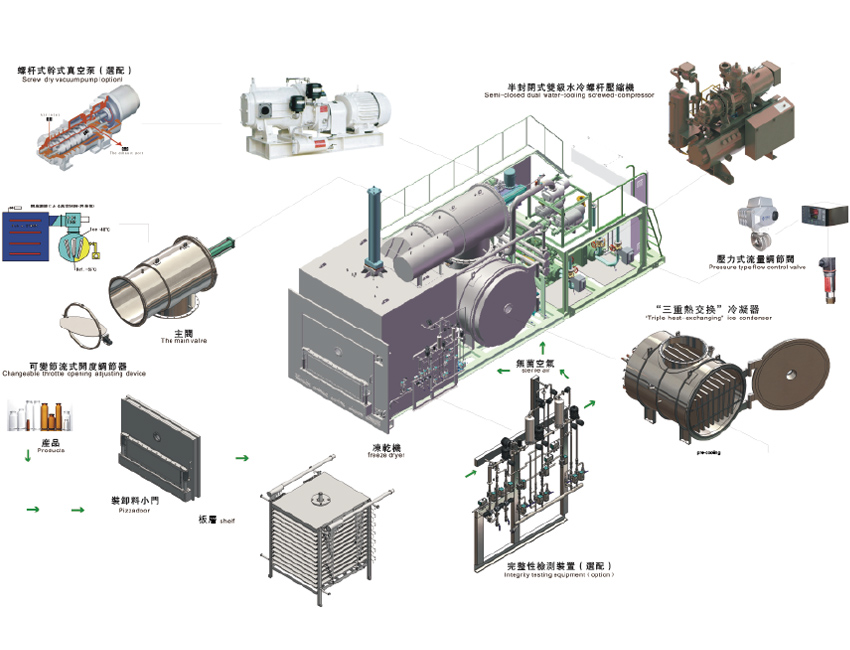 The heat exchanger is installed inside the condenser,that is the condensing board equipped with the refrigerant cooling pipe, the referent flowing inside the cooling pipe, which coagulate the vapor surrounding the condensing board. Refrigerant /heat carrier, refrigerant/vapor, heat carrier/ vapor, these three medias exchange their energy effectively, so it is called "tripe heat exchanging system".

During the pre-cooling , the heat exchanger works for cooling the shelves , at the end of pre-cooling ,it is temperature has been lower than shelves, so it is no need to switch the compressors to cool the condenser, that is to say the evacuation can be operated directly. But during the sublimation, the shelves system and condenser system are separated, and the shelves system would be heated.

Since the compressor is only for cooling the heat carrier, during the time of low-charging, some refrigerant would flow to the condenser to keep it's temperature within a certain range. As an age for process validation, the system with temperature-controllable condenser which can enable the uniformity and reproduction is significant .

The condensing board, which adopts the material of SuS316L, is banned longitudinally. Since the upper part has more ice, for facilitating the vapor to flow to the gap between the shelves, the upper gap between the shelves are bigger. This structure is easy for cleaning compared with cooling pipe.